Celebrating 1996 Templeton Prize Laureate Bill Bright
By Gerald Nelson
---
In 1973, the first Templeton Prize was given to Mother Teresa. In 2023, we celebrate the 50th anniversary of this award. Over the next 52 weeks, we will highlight each of our laureates and reflect on their impact on the world. From humanitarians and saints to philosophers, theoretical physicists, and one king, the Templeton Prize has honored extraordinary people. Together, they have pushed the boundaries of our understanding of the deepest questions of the universe and humankind's place and purpose within it, making this (we humbly think) the world's most interesting prize. 
---
William R. "Bill" Bright was born near Coweta, Oklahoma in 1921. He was the former president and founder of Campus Crusade for Christ International and one of the most vigorous Christian evangelists in the world. A former specialty foods purveyor, he sold his business to begin Campus Crusade for Christ with his wife, Vonette, at the University of California in Los Angeles in 1951. The Campus Crusade (Cru) has reached more than two billion people with the Biblical message of God's love and forgiveness.
Bright attended a one-room schoolhouse until eighth grade. In school, he distinguished himself as an achiever in academics, student government, journalism, debate, and oratory, all disciplines that would later serve him in his mission. After graduating with honors from Oklahoma's Northeastern State University in 1944, where he served as president of the student body and editor of the university yearbook, Bright moved to Southern California and began a confections company.
During this time, Bright attended the First Presbyterian Church in Hollywood where he became an evangelical Christian. This transformation motivated him to leave the confection business behind and study at Princeton and Fuller Theological Seminaries to pursue his passion for ministry work. Once Bright and his wife established Cru, its popularity skyrocketed from college campuses to becoming one of the largest Christian ministries in the world.
Bright's skill of communication and Christian devotion helped him become one of the most influential and popular ministers of his time. He authored more than 100 books, pamphlets, and articles that have been released all over the world. One of his most popular books, Have You Heard of The Four Spiritual Laws? has been distributed over 2.5 billion times. He also helped produced The JESUS film, a documentary on the life of Jesus Christ, which has been viewed by more than 5.1 billion times since its U.S. release in 1979.
In 2000, Bright and his wife were given the Lifetime Inspiration Award from the Religious Heritage of America Foundation. He also received the Lifetime Achievement Award from the National Association of Evangelicals and the Evangelical Christian Publishers Association. In 2002, Bright was inducted into the National Religious Broadcasters Hall of Fame.
Bright passed away on July 19, 2003 at the age of 81.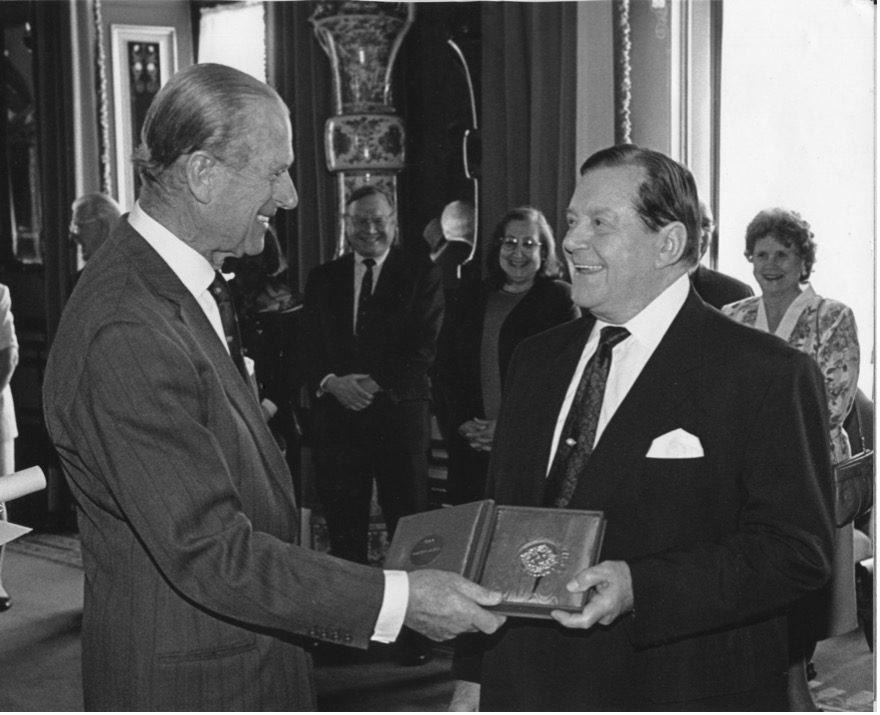 For Bright's work and the work of Cru, he was awarded the Templeton Prize in 1996. A private ceremony was held at Buckingham Palace in London. The following day, a public ceremony was held at the Church of Santa Maria, the first Christian building opened in Rome, Italy. He was given the Prize by HRH Prince Philip, Duke of Edinburgh, and Dr. Josephine Templeton addressed the audience about Bright and his work.
And so today we come together with you, all our friends to honor yet another recipient of the Templeton Prize for Progress in Religion. Dr. Bill Bright is the founder of Campus Crusade for Christ, one of the largest outreach ministries in the world. His dedication to spreading of the gospel of Jesus has made Bill Bright one of the most formidable evangelists in the world. Bill Bright follows well in the tradition of the prize for he set forth in an innovative way to follow the Biblical command 'go and make disciples of all nations.'

Josephine Templeton, 1996. Read the full speech
Years ago, an unseen hand, whom I discovered has a name, became the driving force in my life — an inextinguishable fire in my bosom that will not go out, but just keeps burning and burning, and burning, all the more brightly — a spiritual flame that has started brushfires, then raging conflagrations all over the world.

As a young man, I was a materialist and humanist. So I can identify with multitudes of men and women, young and old, throughout the world, who have little knowledge of God. I was committed to whatever it took — hard work and long hours — to accomplish the materialistic goals I had set for myself, to build my own business and financial empire. I was the centre of my universe.

 Bill Bright. Read the full speech.
Still Curious?
Learn more about 1996 Templeton Prize laureate Bill Bright.