Celebrating 2021 Templeton Prize Laureate Dr. Jane Goodall
By Alyssa Settefrati
---
There are a handful of reasons why California is called "The Golden State" – there is an abundance of golden poppy fields, the official state fish is the golden trout, and the vibrant golden sunsets are not to be missed. However, on Sunday, September 25, Dr. Jane Goodall was the shining feature in the state.
Guests arrived at the historic Wilshire Ebell Theatre, one of the oldest live performance venues in Los Angeles, for a special afternoon event to celebrate 2021 Templeton Prize laureate and world-renowned ethologist Dr. Jane Goodall. The event, "Inspiration and Hope: Living a Life of Purpose," was organized by the Templeton Prize.
Dr. Goodall had planned on participating in person for the event, but on September 23, The Jane Goodall Institute announced that she had contracted covid. As a result of the unfortunate news, Dr. Goodall instead participated live via a Zoom feed – a perfect compromise given the situation.
The event began with a short video, "Jane Goodall: The Spiritual Nature of Life on Earth," that documented Dr. Goodall's inspiring beliefs and profound insights.
Opening remarks were then made by Heather Templeton Dill, president of the John Templeton Foundation. "Jane Goodall won the Templeton Prize for her contributions to our understanding of what it is to be human, and our place and purpose in an interconnected world," Dill said.
"Throughout her remarkable career, Dr. Goodall has exemplified the humility, curiosity, and discovery that the Templeton Prize honors and celebrates."

Heather Templeton Dill, President of the John Templeton Foundation
The Templeton Prize, supported by the John Templeton Foundation, the Templeton World Charity Foundation, and the Templeton Religion Trust, is valued at £1.1 million sterling and is one of the world's largest annual individual awards. The Prize honors those who harness the power of the sciences to explore the deepest questions of the universe and humanity's place and purpose within it.
"While spending time in nature, Jane went beyond the science to experience aspects of a spiritual reality—a sense of awe at nature, and a profound discovery of purpose in the forests of Gombe," Dill continued. "Jane won the Templeton Prize because she is a scientist who sees a deeper meaning to her scientific work."
After noting that the audience would hear from Dr. Goodall later in the program, Dill introduced the first special guest, actor and activist Kate Mara, who joined the program virtually in a pre-recorded message. Mara appeared in the critically-acclaimed film Brokeback Mountain and garnered an Emmy nomination for her role in the Netflix series House of Cards.
Dill noted that Mara is "a big fan of Jane Goodall" and "an avid advocate for animal rights which can be seen in her work with Liberia Chimpanzee Rescue & Protection," a partner organization of the Jane Goodall Institute.
Mara spoke of the influence Dr. Goodall has had on her life, including her work with chimpanzee rescue. Following in Dr. Goodall's footsteps, Mara has been teaching her children love, patience, and kindness to animals.
"You are so deserving of the esteemed Templeton Prize," Mara said.
Kaitlin Yarnall, chief storytelling officer for the National Geographic Society, then took the stage to talk about an exciting new initiative supported by a $2.7 million grant from the Templeton World Charity Foundation. The grant will identify and support three scientists whose passion for and discoveries in wildlife field research have the potential to illuminate unknown wonders of our world and help shape the future of the field.
Yarnall brought the audience's attention back to the screen for a pre-recorded video message from award-winning actress Jean Smart. Known for her comedic timing and her critically acclaimed roles in Mare of Easttown and Watchmen, Smart currently stars in the HBO Max series Hacks.
In her message, Smart recalled meeting Jane Goodall as "the thrill of a lifetime."
"She was, without question, my childhood idol," Smart said. "If you're imprinted when you're very young with a love for animals like Jane was, you can't ever look away. And that's where we're going to get the next generation of Jane Goodalls."
Smart ended on a note of gratitude. "Today, we're all realizing how vital Jane's work was and what a debt we owe to her. I think more and more we're worried about this planet of ours and we owe her a massive, massive debt."
Heather Templeton Dill returned to the stage to introduce the guest of honor, 2021 Templeton Prize laureate and world-renowned ethologist Dr. Jane Goodall, who joined the program virtually.
Dr. Goodall was in good spirits and greeted the audience with her usual positive demeanor. She held up her Templeton Prize medal to show the audience and explained what the Templeton Prize means to her, and how it will have a positive impact.
"It's amazing how much good it will do in the future," she said, clarifying that the funds that come along with the Prize will be used for her Roots and Shoots program.
Dr. Goodall told the audience about the people who deeply influenced her life: her mother, Dr. Louis Leakey, and her dog, Rusty.
"I had a wonderful teacher when I was a child, and that was my dog, Rusty. We are not the only sentient beings on the planet," she said.
Perhaps the most notable influence, however, was David Greybeard, the chimpanzee who taught her that chimps can make and use tools. Dr. Goodall recalls that her observations of chimpanzee behavior forced the scientific community to redefine the definition of humankind, as it was previously believed that only humans were capable of making tools.
Dr. Goodall ended the first portion of her talk with some wise words: "Every single day you walk on this planet, you make an impact. You have a choice on what sort of impact you make."
She then introduced Roots & Shoots, a global youth-powered program of the Jane Goodall Institute led by millions of compassionate young people (and educators) who want to make a difference in their communities, with a short video presentation. The Roots & Shoots program offers resources, training, support, and leadership development skills that grow compassionate changemakers and create real positive change in over 60 countries around the world and growing.
After the video, three youth leaders from Roots & Shoots – Madailein Gregg, Sierra Sun, and Yoshino Watanabe – spoke to the audience about how they have been influenced by Dr. Jane Goodall, their projects on community, animals, and the environment, and most important, how they are making a positive impact in the world.
"Can you now understand why my greatest reason for hope for the future is young people?"

Dr. Jane Goodall
Dr. Goodall asked when she returned on-screen.
Dr. Goodall explained that while it's easy to be overwhelmed by feelings of hopelessness, she has four reasons for hope that keep her spirit going: the power of young people, the amazing human brain, the resilience of nature, and the indomitable human spirit.
Dr. Goodall ended on a grateful note about the Templeton Prize. "The Templeton Prize has made such a difference in the Jane Goodall Institute world," she said.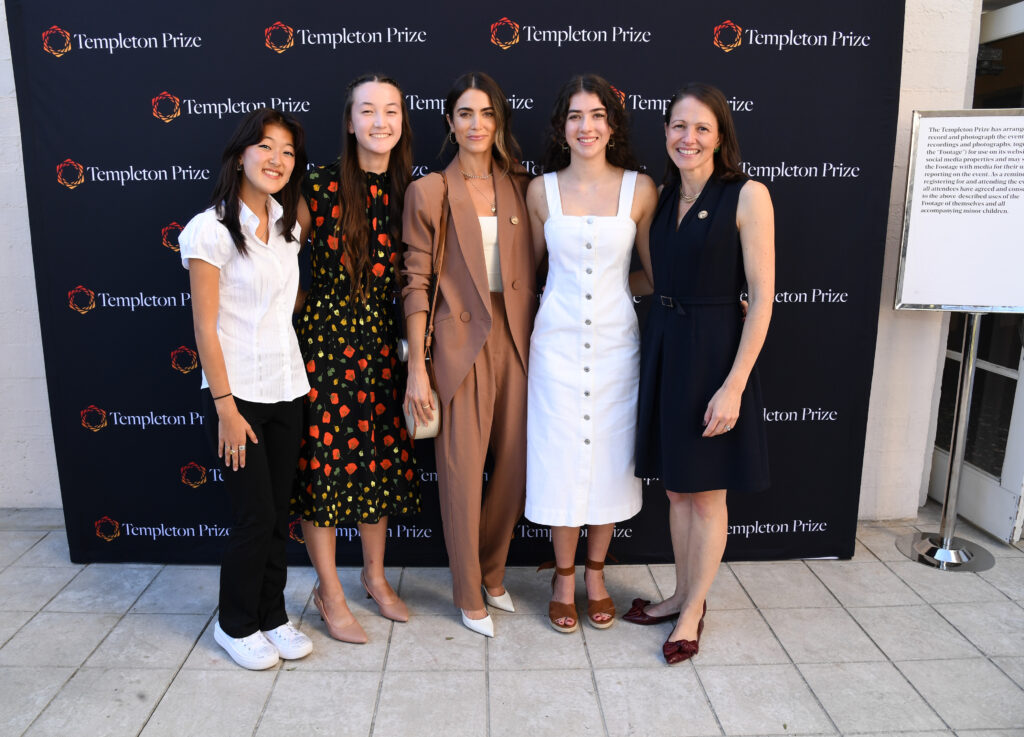 Children from the audience were then invited to ask Dr. Goodall questions, including "What was your favorite thing to do when you were bored as a kid?" and "What do you think is the most impactful action kids my age can take to protect our environment?"
The final question: "Out of all your accomplishments, which one are you most proud of?"
Dr. Goodall's answer, which included two accomplishments, was immediate: First, helping people understand the true nature of animals. Second, starting the Roots & Shoots program.
The program ended with a huge round of applause for Dr. Goodall, and Dill expressed her gratitude to Dr. Goodall and to the audience. "We are proud to count Dr. Jane Goodall among the Templeton Prize laureates because her work touches our minds and our hearts," she said.
Outside in the courtyard of the Wilshire Ebell Theatre, guests socialized with one another while enjoying refreshments on the warm, sunny day. Actress and activist Nikki Reed, known for her portrayal of vampire Rosalie Hale in The Twilight Saga, mingled and posed for some photos with guests. Anna Rathmann, executive director of the Jane Goodall Institute, was also there to support the program.
While Dr. Goodall could not participate in person for the event, she commanded the audience's attention both during the program and beyond. Her positive impact on youth and adults alike is monumental – from the three young women of Roots & Shoots, to celebrities like Kate Mara and Jean Smart, Dr. Jane Goodall is making a big impact on the world – and she's not done yet.