By Alyssa Settefrati
The Natural History Museum, located on a bustling street in the South Kensington section of London, averages about 5 million visitors per year. On Thursday, May 5, the museum hosted one very special visitor: Dr. Jane Goodall, the eminent primatologist and conservationist.
A private, invitation-only event, "Inspiration and Hope: Living a Life of Purpose – An Event to Celebrate Jane Goodall," was organized by the Templeton Prize, one of the world's largest annual individual awards. Valued at £1.1 million sterling, the Prize honors those who harness the power of the sciences to explore the deepest questions of the universe and humanity's place and purpose within it.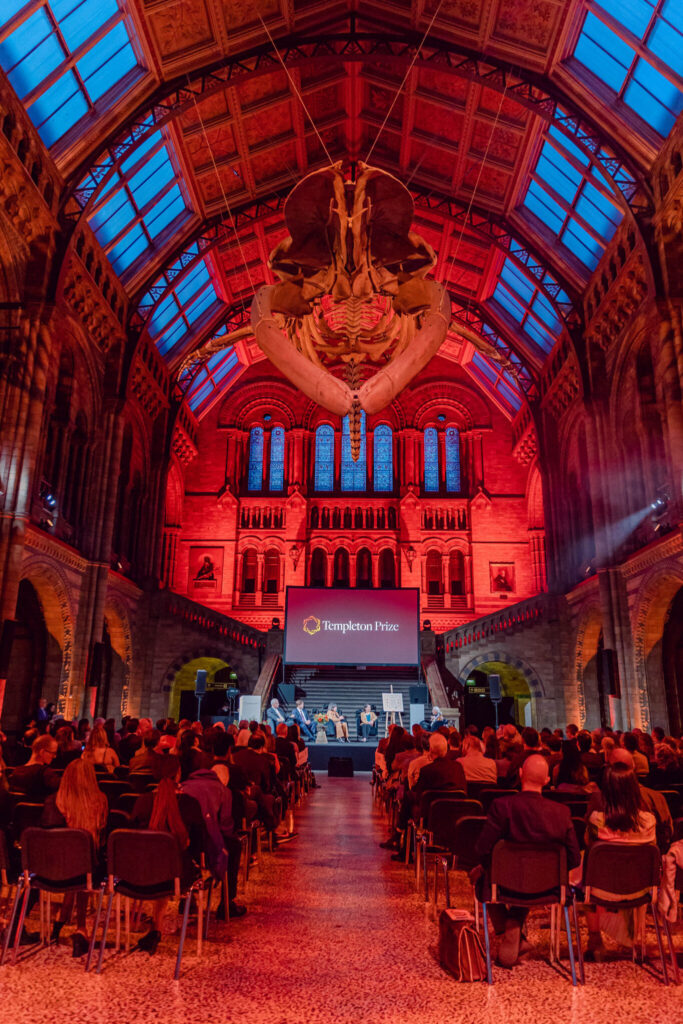 In 2021, Dr. Goodall was announced as the Templeton Prize laureate in celebration of her remarkable career, which arose from and was sustained by a keen scientific and spiritual curiosity. Her groundbreaking discoveries have changed humanity's understanding of its role in an interconnected world.
Postponed well into 2022 due to the Covid-19 pandemic, the event was held in Hintze Hall at the museum, where guests were seated beneath a behemoth blue whale skeleton suspended from the ceiling. Named Hope, the skeleton is a reminder of humanity's responsibility to protect our planet – and completed the truly-perfect setting for an event honoring Dr. Goodall.
The event began with a showing of "Living a Life of Purpose," a 9-minute video produced by the Templeton Prize that chronicles Dr. Goodall's inspiring beliefs and profound insights on the spiritual power in every living thing and what it means to be human.
After the video, Heather Templeton Dill, president of the John Templeton Foundation, took to the stage to welcome guests and introduce Dr. Goodall.
"The world knows [Dr. Goodall] primarily for her work with chimpanzees and her zeal to save earth from further environmental degradation," Dill said. "The Templeton Prize celebrates those contributions and, in particular, the spiritual curiosity which by her own account, both motivated and fueled her work throughout her life.
That spiritual conviction has been a source of inspiration to others, and tonight I am sure Dr. Goodall's spirit will inspire all of us as we seek to live purposeful lives focused on serving others. Please join me now in welcoming the 51st winner of the Templeton Prize, Jane Goodall."
Dr. Goodall was greeted with thunderous applause from the audience as she joined Dill on stage. She was then presented with Templeton Prize medal and scroll, which every Templeton Prize laureate receives. The medal is engraved with the Prize's tree of life motif, and each scroll is a work of art, uniquely designed to represent the year's winner.
Dr. Goodall's scroll displays icons that symbolize her life and work: logos of Roots & Shoots and the Jane Goodall Institute; a leaf to represent the tree she would climb as a child; her favorite childhood book, Tarzan; an egg to represent her curiosity; and an image of one of her favorite chimpanzees, Flo.
The exchange led to a moment of humor when Dill, who unknowingly labeled Flo as David Greybeard, another favorite chimp, was corrected by Dr. Goodall. "No, that's Flo," Dr. Goodall quipped good-naturedly. Laughs could be heard among the audience.
After receiving the medal and scroll from Dill, Dr. Goodall gave her remarks from the podium. She described some of the main points in her life that helped to shape who she is today: the influence of her mother; her time with Dr. Louis Leakey; studying at the Natural History Museum; and, of course, of her time in Gombe and how she became captivated by chimpanzees.
She also had an important message for the audience: "Protecting the natural world, the forest, it's not just for wildlife. It's for our future."
Dr. Goodall is known for her messages of hope, including her podcast, Hopecast, which acts as a movement to keep hope alive and help transform it into real change. Dr. Goodall told the audience that she has four reasons for hope: the power of young people; the resilience of nature; our amazing brain; and finally, the indomitable spirit.
She ended her remarks with a note of thanks:
"Thank you for this Prize. But it's not really mine. Think of the people who have helped me on my way. This award is for all the people helping to make a better tomorrow."

Dr. Jane Goodall
Guests at the event were captivated by Dr. Goodall's words and she received another round of electrifying applause.
Dr. Goodall and Dill were then joined on stage by Christiane Amanpour, CNN's Chief International Anchor, for a brief interview. Amanpour asked Dill about her grandfather, Sir John Templeton, and Dr. Goodall remarked that she wishes their grandfathers could have met. Amanpour also asked Dr. Goodall about the future and discoveries that are yet to be made: "What's really exciting is that we'll never know everything. And there's still so much more to learn," said Dr. Goodall.
Following the interview, Andrew Serazin, president of the Templeton World Charity Foundation, and Michael Ulica, president and COO of the National Geographic Society, announced a special partnership between the two organizations: a $2.7 million initiative to find three young scientists to follow in Dr. Goodall's footsteps.
"The Society is an excellent partner in this endeavor as their long history of supporting National Geographic Explorers will help to find a group of scientists that will mirror the impact of Dr. Goodall's long career and further our understanding of the richness of intelligences that exist in nature," said Dr. Serazin.
The initiative will support these individuals working with wild creatures on land or sea, each seeking answers to questions on a range of biological and behavioral topics, and each studying a different species, selected from across the diversity of animal life.
After the announcement, Amanpour asked Dr. Goodall a few questions from guests, who were able to submit their questions for Dr. Goodall at the event via an app.
"Do you believe animals have souls?" asked Amanpour. "If we have souls, animals have souls," replied Dr. Goodall. Other questions included "What's your experience of grief and transition in your work?" and "What is your most memorable scientific moment?"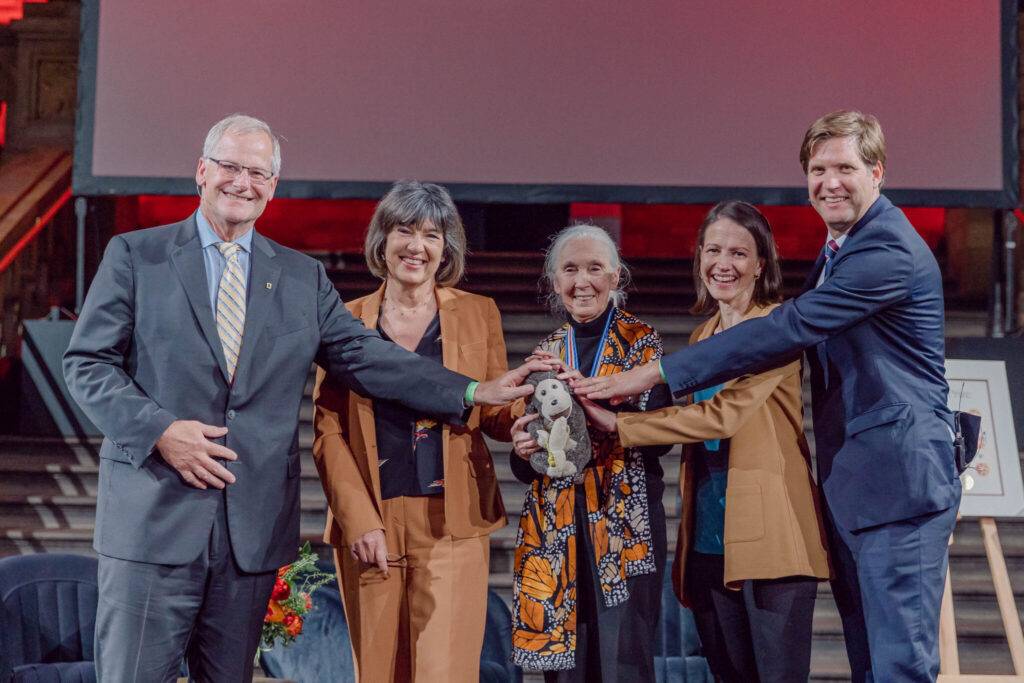 The event ended with Amanpour, Dill, Serazin, and Ulica gathering for a photo op with Dr. Goodall and her traveling companion, a stuffed monkey named Mr. H, who was given to her 29 years ago. Mr. H has traveled with Dr. Goodall to 65 countries and has been touched by over two million people – now including Amanpour, Dill, Serazin, and Ulica.
But the number of lives that Dr. Jane Goodall has touched is surely more than two million, and will forever expand as she continues to inspire and empower people – and of course, spread hope – across the globe.